Agent 99
Little Pieces: 1993-1995 (Shanachie Records)
By: Alex Steininger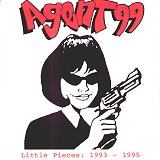 Finally landing a record label, three years after their demise, Agent 99 was one of the early female-fronted, ska-fusion bands that helped pave the way for so many others. Mixing pop, jazz, punk, and garage rock all over a ska foundation, this four-piece's tendency to explode and create a mental-trip was what lead to their demise. Heavy and loud during some parts, and soft and soulful during others, their 'remembrance' disc is an indication of a band that hadn't grown into their mold, yet, but was bubbling with loads of potential.

"Get A Grip" begins the disc with a highly up tempo number that is sure to get you going in no time. The upbeat carries a lot of meat to it, however it's not all distorted and punkish. It's clean, adding a lot of flavor to the number. The bass bounces around with tremendous ease, helping to strengthen the solid rhythm section. Filling out the rhythm section is the drums, which not only help carry out the hooks but create their own. Rapid fire action, the drums beat down with such intensity and speed you can't ignore them. The backbone for the song, they help put everything in gear. Let's not forget the vocals. Angry female fronted, they carry ample amounts of both melody and punch. Working together with the drums, Dunia (lead singer) helps bring each phrase to life. "Words" once again brings forth the energetic foundation which Agent 99 builds on. Highly danceable, the burning upbeat will gnaw at your feet until you cave in and move along with the music. Blending reggae and what has now became known as 'third wave ska,' with a splash of pop thrown in for added flavor, this number will keep you busy for its duration. "Kingston On My Mind" shows the softer, more traditional side of the band. The upbeat isn't as calling as it is in their more up tempo numbers, however you'll still have plenty to dance with. The soulful vocals help carry the song throughout the lighter setting, while the drums add the kick that keeps the music a bit more tougher than the standard traditional number. Showing nice range, a lot of bands aren't able to jump between traditional influenced and rock-crunched numbers, but Agent 99 shows their capabilities loud and clear. Moving on to "Biggest Boy," the linear notes describe this number as what would happen "if Steve Albini played ska." If that is true, it's a good thing the closest he's come to playing ska is producing a ska-punk band by the name of the Eclectics. The reason being is because this number is just a bunch of noise. Hardly ska, it's a bunch of feedback and guitar mixed in with some yelling. It does have it's moments where the ska seems to be bleeding through, but they never allow it to see the light of day and quickly clamp down on it. "Murder For Rent (Punk Rock Mix)" will help get the bad taste of "Biggest Boy" out of your mouth. Very rough, obviously a demo track that never had the chance to mature, this number shows its moments with some bouncy guitar work and sing-a-long vocal kicks, but the sight of a young band who hasn't fully developed yet is also very clear. The backing vocal work is shaking at best, and the added samples and sound bytes take away from the music. "Back To The Underground" brings Agent 99 back to what they're good at...up tempo ska beats with a heavy reggae feel through Dunia's versatile vocal contributions. The chorus hits you like a brick, getting you bouncing and jumping around, while the verses keep you dancing throughout. As an added bonus, they threw on four live tracks recorded at CBGB's in February of 1994. "Alzheimer's Ska/Get A Grip" starts off with a nice instrumental lead before bursting into quite possibly their best number, "Get A Grip." Nicely done live, this song hints at an amazingly intense live show. As do the remaining three live tracks, "Little Rude Ridinghood," "Theme," and a cover of "Sweet Dreams."

This disc has its moments, and it has its weak spots. For the most part, though, it showcases a band that had a lot of potential. Too bad they called it quits before they had a chance to really add the adhesive to their style. But with the members now branching off and starting their own bands, and this piece of history just surfacing, Agent 99 will definitely become a favorite amongst reggae/ska/punk lovers everywhere. I'll give this disc a B.