Mudhoney
Tomorrow Hit Today (Reprise Records)
By: Paula M. Sherman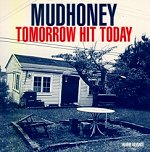 Once again, the heavy-duty rockers from Seattle bang out another exciting release. "Tomorrow Hit Today" is filled with so much energy and imagination that it's easy to say this band just keeps getting better with each passing album. If they continue at this pace they may get more noticed than they wish. But it's kinda hard to keep a lid on talent that's been simmering on a slow burner for years. The mystical components of this grand recipe for soulful rock/punk cuisine are Mark Arm (vocals and guitar), Steve Turner (guitar), Matt Lukin (bass), Dan Peters (drums), and Jim Dickinson (keyboards).

What makes this group's sound so unique are the chillingly solid Arm vocals and experimentally thrilling Turner riffs. Some things never change, thank god, and Mudhoney is a band that knows how to get down and dirty with rock music. Some of the rhythms and arrangements, once lost in them, take me back to the youthful and willful offerings of greats such as Page, Beck, Clapton, Hendrix and Young.

"Tomorrow Hit Today" offers a viable range of selections in 12 extremely cohesive tracks. There are the mind-bending explorational guitar melodies and flexible vocals of "A Thousand Forms of Mind", "I Have To Laugh", and "Real Low Vibe". Then there are the traditional smooth yet ripping rock meltings of "Try To Be Kind", "Poisoned Water", "Night Of The Hunted", and "Ghost". The psychedelic and hypnotic rumblings of "Oblivion" and "I Will Fight No More Forever"; mixed with the familiar fuzzed-out whiny riffs and wielding vocals of "This Is The Life", "Move With The Wind" and "Beneath The Valley Of The Underdog" makes this release a ripe and an overall resounding giant.

I give this "gotta listen to the whole thing with the head phones on" release an A. Rock on and go out and get this one.