Magic Love Fountain
Free (Surreal Recordings)
By: Alex Steininger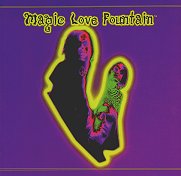 Hailing from Burbank, California, this three-piece bands plays rock 'n' roll in various stages. From psychedelic riffs of the 60's, intricate guitar-driven rock of the 70's arena era, to the charmed power chords and pop feel that is prevalent in the 90's, their album feels like a history book of rock condensed into twelve tracks.

The opening track, "Who Do You Think You Are," has those simple, but catchy, rhymes that imbed into your mind after only one listen. Such lines as "Some people slit their wrists. Some people just get pissed. Well I slammed my fists, and made a whole in your wall. Now you've got a new window" and "Was it something I said? Or was I no good in bed?" instantly catch your attention. First you think some kids threw together a bunch of words that sounded cool, and then you realize some kids-at-heart threw them together, but they actually have meanings. The more you analyze, the deeper you can go. But even if you don't want to analyze them, underneath them lies some hippie-goes-modern rock beats that will definitely swallow you whole.

Off to a good start, the band seems to struggle to keep up with their opening momentum. The follow-up track, "High," leans more towards their hippie mentality, but still spits out some nice riffs and juicy beats. Digging back into their 70's classic guitar rock upbringing, some nice guitar playing is present, but they still aren't able to hook you as much as the opening track.

Matter of fact, it isn't until the eleventh track, "Your Lover," that they really bring it back home and gain the listener's attention once again. A nice mix of soft-rock melodies and charged rock movement, your straying mind will find its way back on the CD player. They'll tone it down to give you a nice feel, centering your attention on the lyrics, before jumping into something a bit more rockin'.

Other than that, the rest of the songs are decent mixes of hippie-rock, 70's guitar rock, power-pop, and a few other influences thrown in for good measure. With all these influences rolled into one, on one side they give off a history book perspective of rock, but on the other side the album is much like those movies dealing with bringing cave men into the modern decade. At first it seems like a good idea, but once there, it just doesn't know how to react. I'll give the album a C+.