Finger Eleven
Tip (Wind-Up Records)
By: Alex Steininger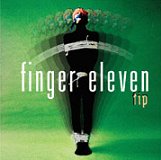 A Toronto-based quintet, Finger Eleven plays Tool-influenced power-rock/metal. Pain-stricken, angry, and full of every day emotions, they bring a lot of themselves out in the music. Very loud, and with a hard edge, each song slams into the listener's ears at full force. Letting go once in awhile to hit the listener even harder, Finger Eleven always keeps the rock hard, even during the mellower moments.

On their debut disc, the band has their crunchy riffs and hammering beats down nicely. Well-produced, and solid from beginning to end, they definitely are contenders in the hard rock genre.

Taking the path industrial, metal, and heavy rock bands have already paved, Finger Eleven opens up the path even more. Songs like "Quicksand," "Shudder," "Awake and Dreaming," and "Thin Spirits" show the band opening up their mouths wide, just to chew up the listener within a few chords. The songs break down to some soft parts before ripping into their trademark hammer sound, kicking the listener smack dab in the head before they know what him them.

On the other hand, songs like "Tip," "Above," and "Condenser" go for the ass-kicking right from the beginning. Each song, however, on this disc does at one point begin to lessen up for moments, usually to bring the point of anticipation up and deliver some headache drenched poundings.

A good mix of lyrics and music, Finger Eleven is able to pack a punch on every track on this disc. The repetitive hard rockin' edge does get dull after a while, but they can usually spin out of it with more neck breaking drives. I'll give this disc a B.