Core
Not Your Size (Sol3 Records/Mutiny Records)
By: Alex Steininger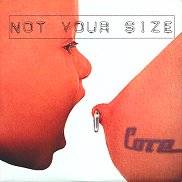 Hailing from Switzerland, NOT YOUR SIZE is Core's first state-wide release (and second of their career.) Blending folk, pop, and some twisted rock momentum, they know how to get down and have some fun. Deep at times, they give you enough to grab on to, but they never force you to take them too seriously. Very melodic in every sense of the word, they get your head swarming with passion while they spit out undeniably catchy beats.

The ability to write an alluring hook is quite hard, but Core make it seem easy. Hook after hook, track after track, and they still keep throwing them at you. Mix that in with some dance, techno, and folk influences, and you have a very unique pop band that is everything but typical.

The female lead vocals are very appealing, as well as flexible. She can pull of the melody in both hyperactive mode, and in the softer settings as well. The occasional addition of the male vocals give the music a dance-pop feel, especially on "Je 'I' Aime," which is some of the band's weaker material. The more they show their dance and techno influences, the less appealing their music comes. They just can't combine their pop-hook sensation with a club-dance feel.

The band is at their best on "Not Your Size," "Stupid," and "On And On." The later is a rock number that will drive you wild. The bass is the center of attention, while the drums back them up. On top of them, the vocals sing. With the emphasis of the bass backing up the vocals, each word blares out of the speaker and takes on it's own life.

There are a handful of numbers that really didn't move me, but overall, this disc is pretty solid. There is a lot of good pop-rock on here, and when it takes shape, it really captures your attention. Diverse, intriguing, and catchy, Core has a future in the U.S. I'll give this disc a B+.