Boy Genius
Last Grand Experiment... (Tommy Boy Music)
By: Alex Steininger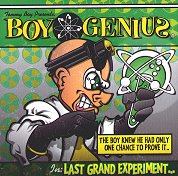 Hailing from Knoxville, Tennessee, Boy Genius is a three-piece pop-punk band. On their debut EP, they serve up eight poppy, hooky, and punk charged numbers.

Not wasting any time, "I Care (At Least For Awhile)" starts off with some chunky bass, hammering drums, and screaming guitars right from the beginning. Then the vocals come in, and the song really starts to kick in gear. The music is charged, full of well-crafted pop hooks and straight ahead punk rock, but the vocals do take time to get used too. They just don't sound like they go together with the music, at least for the first few minutes. After that, they fit nicely with the music. Once your warmed up on them, you won't even have to think twice about them once again. "My Girlfriend's In Love (With Superdrag)" blends their usual charged pop-punk with a truck load of humor. This song is so infectious you'll be singing and smiling within the first twenty seconds, and from there the rest is history. The song will grab you and never let go. Laugh and sing along with it, because it's too hard not too. "The Words Escape Me Now" lets the pop take a back seat, although it is still very present, and focuses on some fast punk beats. The drummer drives the song, pounding and hammering away on his kit. The guitar screams through the song, playing fast and furious, before slipping in a few hooks here and there, all while the bass slips in some meaty riffs. Not as infectious as some of their other numbers, but the song is like a sugar-buzz and will make you want to get up and bounce around. "New Conviction" is another fast-paced punk number that slips in some pop pieces to grab your attention and keep you listening. High energy punk, they must have had a lot of caffeine, sugar, and fun while recording, because this song is on overdrive as far as energy is concerned. Ending with "Man Of Honor," they finish off with a number that is equal parts pop and punk. Still not as infectious as the opening tracks, it does do a good job of getting (and keeping) your attention.

Virtually unknown, landed a major label deal with Tommy Boy Records, and this EP is the outcome. It's almost like a rags-to-riches story. But with explosive pop-punk like this, it was well deserved. I'll give this disc an A-.