The Aldermen
Hoods In Hoodland (Jump Up! Records)
By: Alex Steininger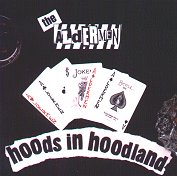 Mixing rockabilly and punk, The Aldermen have quite an interesting sound. A four-piece hailing from Chicago, Illinois, they have some very bright moments on their debut disc.

However, they also have some rough spots that need to be worked out. One moment they'll bust out with a song you can dance with or a song that has your lips spitting out the words in synch with the band, then again, they have a few tracks that just blend together and are all but forgotten once the track closes out.

Songs like the opener, "I Know What You Need," "Left Out and Lucky," and "Kill 'Em With Kindness" are all quite catchy numbers. "I Know What You Need" serves up '77 punk number that will get you thinking about The Ramones while you sing along. Then there is "Left Out and Lucky," another '77 style punker, but this time with a bit more of a pop feel, getting you bouncing and singing along. Still there is "Kill 'Em With Kindness," a Clash influenced number, right down to the blending of reggae and punk. An addictive chorus will ring through your head, taking over every though. Even if you try to resist, it's still going to take control of your body and make you move.

Then there are the other six numbers on this disc. Each of them still contain the punkabilly sound that makes this band quite good, but they don't live up to their potential. They don't capture the addictive feel of the other three, as they are loose and seem like they were composed, practiced, and recorded in a short amount of time.

A band like this is one you definitely want to watch out for. Even though their debut leaves a lot to be desired, they show signs of a tremendous future, if they can just tighten up a bit and harness the quirky licks that make the listener smile, some of which are included on this album. I'll give this disc a B-.