Sean Croghan: King Of Clubs
By: Alex Steininger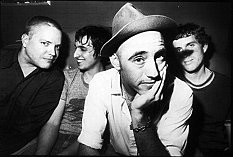 When the smoke clears, only the talent remains. This is especially true in the music industry. When Seattle was the media mecca of the world, Portland was being billed as the 'next big thing'. Yet, after numerous 'could-have-been' and 'should-have-been' stories, only a few bands were able to get hits on the radio and rise to the top of the pop charts.

Some bands embraced the new found attention, while others brushed it off and kept doing what they do best...rock. But now that the attention is long gone, Portland is back to its cozy corner of society, and true talent still remains abundant.

There are many talented artists in Portland, but of the very talented, Sean Croghan is one that truly stands out. Known for his work in Crackerbash, Croghan earned quite a reputation for his essential mix of punk fury and melodic bursts of anger. One of the most beloved Portland bands, anyone who knows anything about Portland rock history will tell you the significance Crackerbash had on the local music community. But all good things must come to an end, and in 1993 Crackerbash called it quits.

Never one to put the guitar down, Croghan soon began writing many more songs, as ideas fluttered through his head. Spending some time in a jazz-like ensemble, Ape Grave, he also showcased his talents via solo performances. But he still felt his songs lacked the group contributions that would bring them to life. Enlisting the help of some close friends, his inevitable return to the rock world was near. Taking the songs he'd been working on for some time, they quickly fell into their own, and Jr. High was born.

But obstacles would doom the future of the band more than once. After line-up changes, and almost calling it quits, Croghan stuck in there and now Jr. High has quickly risen to become one of the premiere bands in Portland.

Power-pop with punk blood, and a lively stage presence to match, Jr. High is that hard-to-find band that will make you dance, bring out emotions deep inside you, and make you feel like there are others out there who know what you're going through.

With a new CD out on Seattle based Empty Records, KILLER OF FRIENDSHIPS has made many locals question when Jr. High's time in the limelight will come. All the while, Croghan still maintains his solo act, playing various coffee shop and tavern-type settings.

Although Jr. High has the brilliance and the strength to climb the charts, one can't help but wonder when a Sean Croghan solo album will see the light of day. After all, two very close friends of Croghan's have made a name for themselves in both the band atmosphere, as well as on their own. Portland's two other immensely talented musicians, Elliott Smith and Pete Krebs, are both hard at work on their solo careers. Elliott even went as far as to secure an Oscar nomination for "Miss Misery" on the GOOD WILL HUNTING soundtrack, only to lose to Celine Dion.

So, is a Sean Croghan solo album in the works?

"Right now my focus is with Jr. High. Sure, I'd like to do a solo album in the future. That is something I would definitely be interested in. But I'm not a genius like Elliott, I just can't whip up an amazing record with a four track. If I were to record a solo album, I would want to do it in the studio with guys who know what they're doing. And right now, the money just isn't there. So, yeah, in the future it would definitely be something to consider."

After catching two of Croghan's solo shows in July, the emotional value of his work was very evident. His voice is as sweet and sincere as they come, beautifully carrying the notes on top of those of the guitar. Playing in perfect unison, the guitar helps create a subtle background, while his voice creates imagines that are so life-like, you feel as if they're so close you can almost touch them.

During each show there was a point where I felt either the crowd was going to let the tears flow, or Sean was going to start to cry. When he sings, he opens up and gives you a clear view inside himself. Combined with the lyrics, which comes straight from his heart, you can't help but feel the love and pain he is letting the crowd absorb. Factoring all this together, it's easy to figure out why no matter what setting you see Sean Croghan in, you're bound to experience something much more than good music.

With enough creativity and passion to spread between Jr. High and his solo work, the only thing that seems to be against him these days is time and money. As Jr. High gains popularity, it seems apparent that a solo album just might be over the not-to-distant horizon. When that day comes, the music world will gain a nice treat.

As for now, it seems he'll concentrate on Jr. High. With the same passion he brings to his solo work apparent in every aspect of the band, Sean is once again poised to create an underground legend with Jr. High (if a major label doesn't snatch them up first).