Bran Van 3000
Glee (Capitol Records)
By: Alex Steininger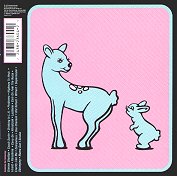 Canadian bred, Bran Van 3000 starts out with a huge helping of techno, then adds folk, rap, hip-hop, rock, and pop to create their very unique sound. Refreshing in a world of run-on techno bands, each track on GLEE has its own life it's living, crossing paths enough to be acquaintances, but different enough to sound nothing like the previous one.

Track one, "Gimme Sheldon," starts off very nicely, with a dancing keyboard intro and everything, but within a minute it quickly changes into something complete different. It's almost like someone was changing the radio, jumping from one techno beat to another. To make it worse, they over sample the song to death. After hearing this track I was not looking forward to listening to the rest of the album.

When track two, "Couch Surfer," started off with another sample, I was about to lose my mind. I was almost ready to pop the disc out of my CD player, when all-of-a-sudden some hip-hop vocal styles came on over the techno beats going off in the background. It was just too weird and original to turn my back on, so I kept listening.

Once the hip-hop meets techno came through on "Drinking in L.A.," matched with beautiful female vocals adding a soothing feel, as well as seduction, I was hooked. The song was catchy, and you could shake your body to it. It had all the good aspects of every musical genre it brought into the mix.

But it just wasn't this one track that blew me away, it was almost every track. Sure, there was parts of the songs where it lost traction and slipped a bit, but they always recovered and turned the song into a healthy number.

After listening to the album twice, there was something that hooked me in almost every track. "Cum On Feel the Noize" is a track that stood out. With it's mixture of acoustic pop-rock mixed in with the techno and dance beats, the song was quite interesting. The chorus, "Cum on feel the noize. Girls rock your boys," just rings out through the chorus, hitting you harder and harder each time it is sang. Ending the song with some fast-paced, pure techno, I was just amazed at how well they covered a lot of ground in one song.

Two of the most powerful tracks on the disc were "Supermodel" and "Mama Don't Smoke," which just happened to close out the disc. A lot of bands can keep your interest throughout, but keeping someone's interest while re-focusing it near the end is a tremendous feat.

"Hey supermodel, set the rest of us free. There ain't no genie in that bottle, or in the magazine," just melts you when the harmony of female vocals freeze you in place, both touching your heart and your mind. You can't help shake your head in approval.

Then there is "Mama Don't Smoke," the final song on this nineteen track disc. Led by charming female vocals and an acoustic guitar, this song is the perfect ending to this disc. To be honest, after listening to this disc once, this is the only song that stuck with it. The rest created a reason for me to want to listen to the disc again, but this song MADE me listen to the disc again. Throw in some faint backing vocals, and some harmonica here and there, and you have a real winner.

Never have I seen a band forge past the standard modern rock forms, as well as over-cliched techno going around, and blend the two to create a truly futuristic sound. With so many minds at work, each influence seems to be properly covered from the opening to the end. I'll give this disc a B+.