808state
Pacific808:98.Cubik/Pacific808:98.Cubik98 singles (ZTT Records)
By: Alex Steininger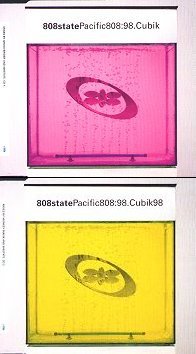 Arguably the founders of the electronica/acid-dance beat craze that is sweeping the nation, this Manchester four-piece takes electronica past the repetitive stage. Using everything from dance to a soothing jazz touch, they know how to keep the listener moving.

With two new singles, Pacific808:98.Cubik and Pacific808:98.Cubik98, just released to help push their new retrospective, entitled 808:88:98, they present the past they created and the future they hope to build. CUBIK serves up three different mixes (including the original) of "Pacific" and the "Cubik:MonkeyMafiaRemix," while CUBIK98 brings forth two "Cubik" remixes and two "Pacific" mixes (including the original).

Between these two singles you get two songs, in four different mixes. For someone that is into electronica, this may sound normal. But for a person who isn't into electronica, this may sound very out of the ordinary. Whatever the case may be, these guys pull it off. Each remix has a life of its own, while still giving you the feel of the previous mix.

If you don't pay attention, you may think you're hearing the same song over and over again. But if you do pay attention, or just want to dance, then you'll know that that is not the case. With the horns and piano work mixed in, they help spice up the atmosphere, while the normal tone of the music is moving enough to make you want to rave all night and day.

These two singles definitely expand on the cliched electronica that is currently going around. Defending their crowns for 'king of the rave,' they easily win with a one-two combo over most opponents. I'll give each disc an A-.