50 Million
50 Million 7" (Dill Records)
By: Alex Steininger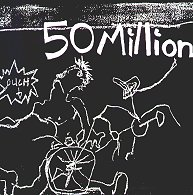 Hailing from San Francisco, 50 Million is a hard band to label. Not that they play one sound that is totally off this earth, because they don't, but they do play many different styles. Take "It's Time" and "Patootie" for instance. Both are punk-induced power-pop numbers that aren't too slow, aren't too fast, but are full of hooks. However, "It's Time" is passes too quickly. Just when you're getting into it, they decide to stop it and move on to "Patootie." Then "Opps!" comes up, and gives you a whole new impression of the band. This time it's just the vocals and an acoustic guitar. Sometimes power-pop bands like to do an acoustic number, so I write it off as an extra track that was thrown on. I love acoustic guitar/voice numbers, but this one was just too quick, once again, for me to really get a nice grip on it.

Turning over the 7", I think I have a good grip on the band. At this point I've pigeonholed them as a power-pop band with some punk energy. But then "Bug" rips right into a fast punk number. We're talking hard hitting drums, intense bass, screeching guitar and all. Of course, they throw in some melody and a few hooks, but it's a straight ahead punk number. Hands down the best track on this record, it was quite amazing. Perfect length, I was able to get into it within one listen. Various times I'd put this on my record player and only listen to this song. Finally, "Valentino" finishes off the 7". A slow, sappy love number, besides some background noise, the vocals are the only real thing going on here. Too weird for me, I opted to only listen to this one twice, and I was threw with it.

Bands that diversify up their music, while still keeping a common bond, are always great to come across. With "It's Time," "Patootie," and "Bug" they were able to do this. However, with "Opps!" and "Valentino" they went too far into the deep end. Overall, this was a pretty good 7". If only "It's Time" could have been a big longer, there would have been more than two tracks I enjoyed. I'll give this a B-.