VARIOUS ARTISTS: The Ska Parade
Runnin' Naked Thru the Cornfield (A to Y Productions)
By: Alex Steininger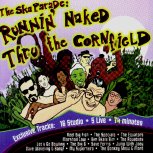 Giving birth to such bands as Reel Big Fish, Save Ferris, and Let's Go Bowling, Southern California has recently seen its ska scene explode into the national limelight. Helping to expose the scene and bring new acts to the locals is the Ska Parade, a weekly radio show started up by Tazy Phillips and Albino Brown. On their second release, RUNNIN' NAKED THRU THE CORNFIELD, they have released a compilation full of ska bands that have not only helped them, but have been tremendously helped by them.

Starting off with the best track on the CD, Let's Go Bowling kicks everything off with "More Than A Person." Everything begins with the drums and their swingish beats, then the guitar soon cries in with some metal slashes. Soon the organ comes in, quickly converting the song, and then the lovable, danceable third-wave ska begins, the style that has made Let's Go Bowling such a big draw nationwide. Add some big horns into the picture, smooth vocals, and a catchy chorus and you have a rock solid ska number. Offering up a different ska style, My Superhero brings their power-pop/ska blend to you on "Ready, Steady, Go." You can't help but sing-along to these guys when you hear them. The songs are always hook-filled, courtesy of their huge pop influences, but then again, there is always enough ska in the song to get at least some dancing done. They also contributed two other songs on this compilation, 'Take The Skinheads Bowling," and "Long Gone." Both of them are just as strong, and just as lovable, as "Ready, Steady, Go." Now onto yet some more different styles. Marshall Law's "Shock It To Me" is a five minute funk track. The first minute, or maybe two, were good but after that it got mighty old. Probably the weakest track on this disc, and the least ska. But following them up is none other than 2-Tone king's, The Specials. "Farmyard Connection" just re-enforces why the Specials are still drawing crowds today. They're still a very strong band, even without a few members, and can still create powerful ska. Their strong horn section helps rope the listener into the music, while the upbeat keeps them dancing and enjoying. Bim Skala Bim's "Wise Up" is the same way. This time, though, the music is faster paced and instead of getting you dancing slowly with some friends, this number will get you vigorously dancing until you're about ready to follow over. The multiple-vocals work in their favor, which is usually not the case in bands jamming more than one or two vocalists into a song. Thee Spivies offer two musical styles from the 60's: ska and rock 'n' roll. Imagine Buddy Holly doing ska, and that's about what you get. Their track, "Fire Safety," is both fun and funny. Everything music represents is presented in this song. You get a sense of humor with music you can jump and bop around with. You can't go wrong with this! Reel Big Fish also offers up a cover of their Southern California heroes, Suburban Rhythm, who also appears on this compilation. Finishing off the compilation, Save Ferris contributes a non-album track, while My Superhero closes out the twenty-five track disc.

This compilation has a lot of good bands, and a lot of good songs. There are a few songs that are only decent, sometimes less, but that is only a few amongst the twenty-five tracks. Even though there are only a few non-California bands on here, this compilation is still a good compilation to check out and get your feet wet with ska. I'll give it a B.