Edna's Goldfish
Before You Knew Better (Moon Ska Records)
By: Alex Steininger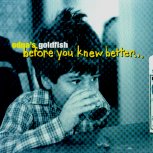 Playing a mix of fast paced ska and punk aggression, Long Island's Edna's Goldfish has released their debut CD on Moon Ska's baby label, Ska Satellite Records. Very danceable, highly energetic, and about as punk as you can get before crossing the ska line, this disc has twelve very enjoyable tracks.

These guys have too much energy to release, and it proves from the opening guitar work on "I'm Your Destiny." Very fast, and highly sugar-filled, the guitar takes a three second dash, then the rest of the band slams together and kicks off the song. The rest of the song is just as intense as the opening. The verses keep you dancing, possibly running to keep up, while the chorus slams into some punk rock for anyone that really has some energy to release. After hearing this one song, I was very hesitant to go on. I mean, listening to something this intense could give someone a heart attack. It's the fastest, hardest ska I've ever heard that I wouldn't label 'ska-punk.' "Eventually, Anyway" continues with some more abrasive ska. The opening is a pop-punkish guitar combined with some words about seeing your girlfriend with someone else. Then the drums come in and the band quickly dives in to the ska, saving themselves from some standard pop-punk band trying to be ska stereotype. The only thing I don't like about this song is when the vocals shout, "One more time!" They just seem so out of place, and really detract from the music, as well as the story. But they gained back my trust within ten seconds, erasing any doubts I had about the song when the horns came blaring in and just melted me. The rest of the song is some more fast third-wave ska, still maintaining a little punk touch, but a lot less than the opening track. "This Is Not Here" is yet another fast, aggressive number. By this point you've come to expect them, and they keep serving them up. But this one does offer a little lighter feeling, especially when they let the horns do their dirty work and shine the spotlight on them. Soothing horns dominate the scene, pulling some nice solo's out of their hats and proving they have skills, and aren't just used as fillers. "A Perfect Day" is one of the few numbers that didn't go over well with me. The opening is a funk-like waste, and when the song really starts the vocals just seem a bit out of place with the music. The song seems to get good, and then they bust into a little punk rock-out before sliding back into some more filler like the beginning. Ending on some more punk beats, the song is definitely one of their weaker tracks. "Purple" will restore your faith in the band, though. The verses are jumpy, very bouncy ska loaded with horns while the chorus is a reggae-punk-pop blend that is very catchy as well as thought-provoking. Did I mention the amazing horn work on this song? Well if I did it deserves mentioning again. When the horns are present they are dominate and controlling, demanding your attention and easily earning it. Closing with "Gone Away," they slow the pace down a bit but still keep it intense enough to get your feet moving. You were thinking you'd get to rest, but don't count on it while you're listening to this CD.

This is one of the best borderline ska-punk releases I've heard in a long time. Lately I've been getting really picky in the ska-punk realm, but if they all were as aggressive and energetic as this I wouldn't have a problem. I'll give this CD an A-.