Big Lick
The Hills Are Alive (Rackem Records -- P.O. Box 566/Norfolk, MA 02056)
By: Alex Steininger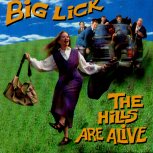 Hailing from Norfolk, Massachusetts, Big Lick is an eight piece ska band. With a fast, and highly energetic upbeat, they show their ska side. Not afraid to go beyond that and show their hardcore and punk influences, they fuse everything into equal parts (sometimes leaning more towards one than the other) and come out rockin'.

"This Next Drink" kicks off the album with some ska-punk beats, full of lush horns and a bit of a dance feel. Ready to take charge, the vocals come in and convert everything into some hardcore. Not as appealing as their other stuff, they quickly jump into some juicy ska beats. From here they serve up a little pop touch with enough upbeat to get you dancing and singing along. Jumping back to the hardcore, they lose your interest for awhile. But diving into some punk rock, which serves as the converter between the hardcore and the ska, they soon jump right back into some more ska, which is when they are at their best. "Mad At The World" earns a spot as one of the top tracks on this album. Starting off rough, if you listen to the lyrics it's obvious why the angsty beginning belongs. Blasting corporate music, "I can't afford music, I can't afford a life," they take their stab at $15 CD prices. From there they dive into what they do best, catchy hooks. A pop-punk chorus with horns, it rings through your head and makes you sing along. You'll sit there screaming along with the music, "I'm mad, mad, mad at the world! I'm so mad I could kill myself, but I'm much too sane for that." The hooks, the lyrics, and the music mixed together are too infectious too ignore. Mixing in some more hardcore rants, they help keep a bit of contrast in the music. Although I would like the chorus to expand and be the whole song, the hard-edge does fit with the lyrics, so I'll give them that. And on to the best track on the CD, "7 Grand." When I first heard this on the Skarmagedom compilation, I was taken away by this band. This one track stood out amongst the 20 or so on it's side. Pop-ska-punk, it's infectious ring mixed with energetic ska beats shoots right through your body. They don't even waste time on this one, jumping into the ska right from the beginning, they aim to get your attention and do so in less than five seconds. Keeping the pace up, you'll be frantically dancing through the verses, while jumping and singing along during the chorus. Heck, you'll still be dancing through the chorus. A flat out amazing song, it's disappointing not to hear twelve other ones like this, and even though the rest of the album isn't this powerful, they do come close on a lot of occasions. Trying to avoid any pigeonhole, "Trigger Like A Gun" mixes in a bit of swing with a lot of 50's pop and rock 'n' roll, of course with a little punk touch, making this song one of their most diverse. It will make you swing, it will make you sing along, and it will let you have fun. With their ear for a good hook, along with some flavors from the past, this number is quite nice! Ending with "Backwards and Four Words," they close out the disc with their trademark sound, fusing punk, hardcore, and ska.

Even though they mix in a bit too much hardcore during some parts, losing a lot of the dance feel that they are so good at, they are mighty good. With a great ear for catchy pop hooks, and some explosive ska weaved in, they are able to captivate and control. I'll give this disc a B.