The Replacements
BOINK!! The Replacements Anthology (Miraclo/Glass Records)
By: Alex Steininger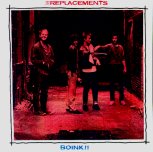 The Replacements were arguably the most influential rock 'n' roll band from the 80's. With a few bands competing for the honor, though, it is understood The Replacements were well ahead of their time. Playing a mixture of punk/garage rock in the early days and with each album advancing into a power-pop sound, they helped shape modern rock for the 90's.

With so much influence, and so many critically acclaimed releases ("Let It Be," "Tim," and "Pleased To Meet Me"), The Replacements were headed for stardom. But, with their music went their reputation, which ultimately kept them from major limelight.

Captured on this disc are rarities spanning their career from their first demo tape until their last session with Bob Stinson, their original guitarist, who ultimately died of a drug overdose.

Starting everything off is material from the 'Mats first session, material that would later be-recorded and find its way onto their debut CD. Raw, pure, and representing everything the 'Mats stood for, each of the five tracks are their own little gem. "Careless," "More Cigarettes," and "I Hate Music" never sounded so good.

Some more interesting stuff this disc contains is outtakes from the LET IT BE sessions. "Sixteen Blue," one of the many stand outs on LET IT BE, as well as two versions of "Street Girl." You'll also find "Seen Your Video," with alternative lyrics.

Some long sought after material also finds it's way on here, as both the Twin/Tone final sessions and Bob Stinson's final sessions are both on here.

Start off with the Twin/Tone sessions with both an electric version of "Can't Hardly Wait," as well as an acoustic version. Then move onto Bobbie's last session and hear rehearsal versions of "Valentine," and "Red Red Wine." Other great tracks from this session are "Birthday Girl," different than the one on Reprise's recently released ALL FOR NOTHING/NOTHING FOR ALL compilation, and "Empty As Your Heart (aka PO BOX).

But the big question is, how is the sound quality? For a bootleg it is REALLY good. Considering the age of some of these recordings, and the method of obtaining them (through hard-to-find releases, tape trading, etc.), Miraclo/Glass Records really deserves some credit for capturing the 'Mats at their best and making it sound SO GOOD!

The price of the disc is $18 + shipping, and even though that is sort of high (cheap for a boot), I highly recommend this disc to 'Mats fans, as well as people who want to introduce themselves to The Replacements in one disc, rather than buying their whole Twin/Tone catalog to get a feel for their early material. I'll give it an A.