Litany
Peculiar World (Time Bomb Recordings)
By: Alex Steininger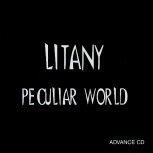 Realizing the need for a school where females could go to learn how to play an instrument, learn about booking, contracts, and how equipment works, Stephanie Bourke (drums, vocals) formed Rock 'N' Roll High School. From there she soon met up with Fran Evans (vocals, guitar, bass) and Melanie Schmidt (guitars, vocals) and Litany was formed. Eventually becoming a four piece, with the addition of Suzannah Pearce (bass, guitar, drums), Litany plays a mix of pop, punk, rock, and even a splash of hardcore. On their debut CD, they prove that it isn't a man's world, and women can rock just as hard as any male band can.

Starting off with some heavy guitars, and then some soothing female vocals harmonizing with some "oh's," "Madrigal" kicks everything off. Full of power, the hard hitting drums and the thick bass help the guitar move the song when it wants to be harsh, but with the help of the beautiful vocals singing together, they have no problem pushing the song into a pop atmosphere. Mixing things up a bit by throwing in some extra instrumentation, they add the piano and violin in the mix, creating a very soothing closure for the song. "By Myself," a current hit in Australia, mixes a pop verse with a punk chorus, giving you a calm feeling before jolting you into a frenzy. The song itself is a politically minded song dealing with the issues of women rights, and how they are treated in society. "Yes means yes, no means no. However we dress, wherever we go," and "It's a peculiar world where to be a girl you have to be sexy and thin" are just a few of the messages spread out through the song. With brilliant contrast working it its favor, and some very juicy lyrics helping push the song, this is easily the stand out track on this album. "When You Gonna Stop" is very close though, as I find myself jumping to these two numbers before listening to the CD all the way through. A well-crafted pop-rock number, this song continues with their fight for women to realize the power of independence. "When are you going to stop thinking he'll make your life better than it is today?" rings through the chorus, as lush vocals help push the words even deeper into your mind. A catchy hook placed here, a powerful rhythm section there, and all the pieces fall together while you find yourself singing along. Heck, I even find myself singing along with this one every time I hear it. "Schubert" is 'background thought' music. A piano accompanied by a violin, as you hear this minute long number, you'll sit there and think about your life and what it means to exist. Deeply emotional, the number can be frightening or relieving, it all depends on the listener. Quickly jumping into "Bad Faith," another pop-rock number, your thoughts will quickly jump back to the music. Yet another pop infection that will hit your ears and have you mesmerized instantly. It's just the way their voices work together with the lines and hooks, forming a nice foundation, and from there following through with enough going on in the song to keep you attentive. "Buy Me An Ocean" shows a different side of the band, as they rely mainly on an acoustic guitar and a few other shakers and what not thrown into the mix. Not as catchy as some of their other material, the song still has enough hooks to get you listening and enjoying. Ending with "Rapunzel," a mixture of punk, metal, and pop, the CD ends with one of the weakest tracks on the CD, giving you a good reason to re-listen to the CD once again.

Let me say this...Litany is the best band ever to come out of Australia. Big statement, I know, but I've never been a fan of Australia's musical offerings until now. Here is something that is catchy, easy to sing along with, and has a point behind it. As a male, I can assure you, men and women alike will enjoy this for the music alone. I'll give this disc a B+.