SHOW REVIEW: K's Choice/Tara Maclean
June 17, 1998 -- Portland, Oregon (In-Store Performance, Music Millennium)
By: Sonya Brown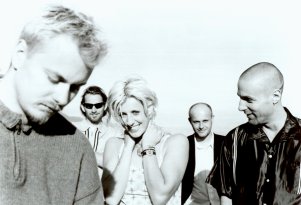 I stumbled across this performance quite by accident. My intentions were to see a band who performed earlier that day at the request of a friend; however, I was held in traffic for over an hour. By the time I arrived, I had missed the earlier band.

I saw on the marquee that K's Choice and Tara Maclean would be performing a bit later... so I decided to stick around because I absolutely love in-store performances at Music Millennium. They are so up-close and personal, and my favorite part is the usual "meet and greet" after the sets.

Both bands were there to promote the Lilith Fair, and first to take the stage was Tara Maclean. The first thing I noticed about Tara was how delicate she seemed. It looked as if her guitar and the stage would swallow her up, but once she began to sing - any doubts were shattered, she can certainly carry the weight. In fact, one of the songs she sang for us was about stage fright, letting go of fears, and achieving goals. She was accompanied only by a guitar player (I believe she said his name was Bill Bell) and they performed such songs as "Jordan" and "Red". She described "Red" as being about jealousy and learning to accept lost love. She wrote it after running into an old boyfriend at a club and seeing he was with someone else, and how rage got the better of her. She said "Jordan" was a song she wrote for her father, who was a country gospel singer (and she did promise that this song would be neither "country" nor "gospel"!). Another thing I noticed about Tara was her interaction with the crowd. She has wonderful eye contact. While her style of music is not my usual fare, I enjoyed her sweet soothing voice none-the-less.

Next on-stage was K's Choice. They seemed a bit tired from the road, but ready to entertain, and Sarah made comments about how Music Millennium was one of the "coziest" in-stores they had ever performed for. She seemed at ease and comfortable there. They played for about 1/2 hour and did several songs off their new CD "Cocoon's Crash" such as "Everything For Free" (their new release tune), "Winners", and of course the title track "Cocoon Crash". They also did their more popular tune "Not An Addict", which I thoroughly enjoyed. Sarah Bettens has a distinctive raspy voice and she was joined on some vocals by Gert Bettens (he also plays guitar). The interesting thing about this performance was the lack of a drum set. The drummer used whisks on a cardboard box. He held the box between his 2 bare feet, which was rather endearing, and the sound was actually pretty good.

After their set, we met Sarah and Gert briefly for photos and CD signing. While Gert was signing my CD, I noticed his distinctive way of adding little pictures to his signature and I asked him if he had done the artwork for the cover of "Cocoon's Crash". He smiled and said he did. I thought that was pretty great!

Although these bands are not my usual genre, I enjoyed the live performances, and they were all so friendly. I was glad I happened upon this intimate little show, AND my friend won Lilith Fair tickets at the drawing!