INTERVIEW: Amazing Royal Crowns
An interview with Jason "King" Kendall, vocals
By: Alex Steininger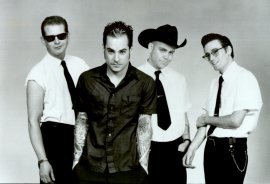 Alex: How would you describe your sound?

Jason: We're an equal cross of punk and rockabilly. What that means to us, is a lot of energy. We play a lot of 50's style rock 'n' roll with punk rock energy.

Alex: What are some of your musical influences?

Jason: Throughout the band there is many, many different influences. Our guitarist likes a lot of western swing, jazz guitarists, and a lot of rockabilly. People like Mickey Baker...What else should I say there buddy?

Johnny "The Colonel" Maguire (guitar): The Ventures!

Jason: Yes, The Ventures. A lot of surf stuff like that. The Dead Kennedy's guitarist. Jack, our bassist, likes a lot of country stuff and a lot of punk stuff. Same with Judd, he likes a lot of punk and rockabilly stuff. So, as a whole, people like Johnny Bernett. Joe Clay, Rockabilly people like that. Then, of course, bands like The Clash and punk stuff like that. They're all an influence on us. The Damned, The Misfits, Johnny Cash, and X. There's a lot of stuff. James Brown, it's just a big stew.

Alex: So, what are your band goals for 1998?

Jason: We want to record another album, because we're very ready to do that. We have the songs and we're ready to record. But also, we want to build up a fan base throughout the United States. We're pretty good on the East Coast, and into the Midwest. We're pretty good there, but on the West Coast and the Northwest we really need to build up a fan base. So we'll just keep hitting this area. Then, as I mentioned, we want to record another album and release a single. We love to release singles, because I love vinyl.

Alex: Since you've been on the road for a long amount of time, what do you do for fun?

Jason: Lot of times there isn't time to do stuff. There is just drive time. But we do love to search out diners. Instead of eating at the usual places, we love to go to diner's and stuff. But each band member does their own thing. Me, I like to get to the club and do sound check really fast. Then I like to go walk around and check out the bookstores, the record stores, whatever and check everything out. When we were in Detroit we had a good bowling match.

Alex: Do you have a favorite city or venue to play?

Jason: Right here! No, we've never even played here before [La Luna -- Portland, Oregon] but it's pretty cool. Our favorites cities in the last couple of tours has been places like St. Pete's in Florida, it's really good. San Antonio, Texas was really, really fun. Savannah, Georgia was really good for us, we love it there. As for clubs, The Magic Stick in Detroit was amazing! It was just flat out amazing. It had a bowling alley, pool tables, really cool leopard skin everywhere. Cain's Ballroom in Oklahoma is great. It was where the Sex Pistols played their only Oklahoma appearance.

Johnny: It was a forty's dancehall place. It was really cool. Out of four places the Sex Pistols played on one of their U.S. tours, that was one of them.

Jason: Yeah, and the other one was in Tulsa. They had Sid sign the backstage wall, and it has this little signature that says, "Sid!"

Alex: If you could tour with anyone, who would it be?

Jason: That's a tough question. Past or present bands?

Alex: Both.

Jason: I'll start this off by saying, when we started the band we asked ourselves who would we love to tour with, and we were like, "The Cramps!" Then the Cramps asked us to tour with them, and we did it for a month and a half. That was the best thing that could have ever happened to us, so we've already lived a lot of our goals. But for me, I would say the Clash. The old Clash, when they were really happening. And right now, I would say X, for me. Johnny, who've you got?

Johnny: Elvis! That would be back in the 50's, but in this time, Hepcat.

Jason: Oooo...Hepcat! Yeah, that would be a good tour. We played with them once, and we had a great time.

Johnny: The Bosstones, that was great. They were really good to us. The Specials, we toured with them and they were awesome.

Alex: How did it feel to have your dreams come true and tour with the Cramps?

Jason: Anytime you go out with someone, not necessarily idolize, but you look up to and who's influenced you, there is always that nail-biting factor. It took me awhile, but Johnny jumped right into it. He was like, "Hey, how's it going?" But for me, every time they walked by I couldn't talk. I just put my foot in my mouth, giggled, and walked away. But sometimes you meet people you've always dug and they turn out to be complete assholes. . .complete idiots! That wasn't the case with these guys, they were great, but sometimes it does happen. So everyday I would have to stop myself, because I would just go off and be like, "Oh my god. We're walking around with the Cramps. We're touring with the Cramps." It was really cool to have them watch our show and tell us how great we are. It was just amazing to us. It made me feel as if we'd achieved something.

Alex: Is there any road experiences that stand out in your mind? Either good or bad?

Jason: Highs or lows? OK, yeah...I'll give a personal low. We've had a bunch, but I'll give you a good one. On the Cramps tour everyone was sick and fluish. The van broke down for the forth time or so, it was awful. So around midnight I'm up in the loft past out, I have a sweater and four shirts on, and I'm literally delirious. I woke up, broke out in sweat...the sweat came through these four shirts and the sweater, and it was disgusting. So, I wake up in the middle of the night and nobody's in the van. But it's moving! There are these big flashing lights, but nobody's in the van, and it's moving!

Johnny: We were in the van.

Jason: No, I didn't...No, you weren't. At least not when I woke up. The only person I saw was Judd, and he was asleep. Maybe you guys were being quiet or something?

Johnny: Yeah, we were sleeping too.

Jason: Well, I wake up and there was flashing lights. So I started to freak out, asking myself what's going on? Well, we were being towed. Nobody woke me up because they figured I was so sick and delirious that it wouldn't have mattered anyhow. The van broke down, and we were so broke we didn't even have money to get a cab. So we had to hide in the van and get towed to our next destination. That was a low. Johnny, got a low?

Johnny: I got a really good low! We were playing San Diego, and we stayed in this really dumpy hotel. I remember being in the bathroom and there were these ants all over the place. Oh well, I thought, just a few ants. So we go to the show, play the show, and all that, and I go to the van because I practice a lot. There are all these people outside selling drugs, selling stolen stuff, and all that...

Jason: Which isn't the low. That happens all the time, believe it or not.

Johnny: So, I wake up at ten in the morning covered with Ants. IN THE VAN! There was this bush outside, and the bush was leaning on the van a little bit, and they crawled into the van.

Jason: He comes running upstairs screaming, "I'M COVERED IN ANTS! IT'S ALL OVER THE EQUIPMENT." We're like, come on, give us a break. One of our guys went downstairs and was like, Johnny's not kidding. The Ants were everywhere, it was kind of funny.

Johnny: We go to this parking lot and this guy won't let us...we're taking all our equipment out and spraying it to kill the ants, and this guy is screaming at us. Then we're spraying down the van, but that's not the bad part. After taking all the equipment out, spraying it down, and then spraying the van, we had to get in that van and drive 38 hours straight with the smell of just spraying everything.

Jason: That was very funny! A good story though. That was classical. As for highs, I guess one of them will be getting to go to Europe and Australia with the Bosstones. Another one, for me, was playing with the Cramps. We got to play our hometown with the Cramps, and we absolutely ripped shit up! It was great, and the whole tour was amazing. Hanging out with them was a high point for me. But, a high point is anytime we're on the road, far from home, and we get a really good crown who's really into our show.

Alex: If you could change anything in the band's history, would you?

Jason: Yeah, I would have wanted to find Judd, our drummer, a lot sooner. I would have wanted him to be one of the founding members. We went through so many different drummers who never fit the bill, and never had a good punk/rockabilly background.

Johnny: Yeah, but the timing worked out perfectly. When we started out, we weren't the hottest thing in town.

Jason: No we weren't. We were spazzes.

Johnny: We were very amateurish. Judd has been at such a high level for so long, when we started out he probably wouldn't have joined the band. But now that we're doing well, have a higher profile, he fits right in.

Jason: Not even that. I think we're just a better band now. I would have really liked to find Judd a lot sooner. But, other than that, there really isn't anything. It's been really great. We've burnt no bridges, made a shitload of great friends, and did everything the way we wanted to. We've released our own CD's, our own singles, and booked our own shows. We play nothing but all-ages shows, so we've pretty much done it our own way. I mean, once in awhile you have to play a 21+ show, if you don't know about it and get booked into it, but 99% of the time we play all-age shows.

Alex: Ever have any problems with your all-age show beliefs?

Jason: Yeah, sometimes. This last tour we did really good in Denver, but the all-ages were down in the balcony and the 21+ were down by the stage. It should be the other way around. I mean, if you're 21+ you have a choice to go upstairs or downstairs, but if you're not, you get stuck upstairs. And that's just not right.

Alex: So, what made you guys want to be in a band?

Jason: Just a huge love of music. I've always screwed around in little bands here and there. I was in a hardcore/punk band in Germany. Johnny's been in bands left and right, he was in a band called the Phantom Creepers. Jack and Judd have both been in bands, so we just did it. We just love to put music out, have our stuff out there, and everything. I mean, why does anyone be in a band? It's definitely not to be a rock star. After sleeping in a van and cleaning out the ants, definitely not! You don't get a lot of sleep on the road, you don't eat right, but it's a lot of fun.

Alex: What goes into good music making then?

Jason: Energy! You have to have energy and put it across.

Johnny: It must be three minutes or less!!!

Jason: Exactly, if you can't say it in three minutes or less, don't say it at all. That's our motto. It gets boring after awhile.

Alex: The Ramones theory!

Jason: Yep, and it's a great theory.

Johnny: It comes from Elvis and the early Rockabilly bands. They're stuff was three minutes.

Jason: So, it would have to be energy, say it quickly and get out, and it must have a good melody. And for us, we're not anything retro or anything. Sure, we use old instruments and recording techniques to get out an older sound, but the songs need to have something to do with what's going on today. They've got to be up-to-date. Since we have so much grounded in punk rock, I can't help but write the lyrics about what is going on today.

Alex: What inspires you to write the lyrics then?

Jason: Everything. I wake up in the morning and have lyrics in my head. I'll look at a blank TV screen and have lyrics pop into my head. Just right now I'm working on some lyrics called "Blue Light." It's about when you fall asleep with the TV on and when you wake up there's that blue light, and how it could be a metaphor for people's lonely lives. In this band we have songs that are about a lot of different things. We write about hats ("Pomades"), Shitty, disgusting, horrible looking bars ("Shiverin In The Corner"). Ever seen the movie BARFLY? Well, "Shiverin In The Corner" is about the local bar where the 'stars' hang out, and now they've dwindled down to nothing but the bottle. They're nobody's now and they turn to the bottle to waste away their lives. Also, our song "Minute With The Maker" is about a man who's had so much shit thrown at him that he believes if he had one 'minute with the maker' he could make everything right. Just anything, I love lyrics!

Alex: So, are you writing lyrics all the time?

Jason: Yes, all the time! It's one of the few pleasures I have. I was actually writing some right before you came in here today.

Alex: What do you want the listener to get out of the lyrics, and then, what do you want them to get out of the music?

Jason: I think the lyrics should, and they do, go hand and hand with the music for the energy factor. We're not a social commentary band. Our main thing is to entertain. We want to entertain and let you forget your problems for an hour or two. We want to be the band that you look forward to seeing at the end of the week, if we come to your town. If you've had a hard time, and you know we're coming, we want you to come and forget about all your problems. A lot of our stuff is fun and singable, so you can come out and dance and then jump up to the mics and sing along. I just want people to have a great time. I'm not looking at people to stop eating meat, or anything like that. You know what I mean? We're all about fun.

Alex: So what made you re-release your debut album when you signed to Velvel, instead of recording a new album?

Jason: That's a good question. I'll tell you exactly why. The history of the album is we recorded and released it ourselves. We released it and sold 1,000 copies in a week to two weeks time. Then we released it on Monolyth, and sold 10,000 copies. Then labels started to sniff around, and we eventually re-released it on Velvel. They said they wanted to re-release it. We were ready for a new record, but they pointed out we hadn't reached all the markets we could, which is true. You can only do so much on a tiny, tiny indie label. We never put the thing onto the masses. So, we agreed to re-release it and then they told us we had to add new songs. We were like, "No, we can't add new songs. The people that already bought it would feel cheated. It wouldn't be fair to them." They agreed, so we agreed to let them re-release it. We then told them they had a certain amount of time to push it, and then we were going to record a new one. They agreed to that too, so hopefully in August we'll take some time off to record a new album. We have the songs already written. We have so many strong songs, we're ready! Also, the BMG distribution really helps. Now you can get the album anywhere. Now we can honestly say we've given the album a fair shake, actually more than a fair shake, and it's time to get a new album out.

Alex: Are you tired of playing all the old songs?

Jason: Yes, and no. Sometimes I'll be like, "Ah...'Do The Devil' again." But once we get up there and see the crowds into it, it's OK. We'll do the same old songs forever if the crowds are always into it. Music is timeless as long as people still enjoy it. Also, we've never been to Portland before, so who knows? Maybe they'll be ten people up there, but if they're into it, it's ok.

Alex: How have the fans reacted to the re-release, once again, of your debut?

Jason: We've made it pretty understandable to them. We were really scared about pissing people off, we were really scared! People seem happy though that we kept it the same, and that's what we want them to know. We haven't forgotten about them, and we're still here for them. That's why back in our hometown of Providence, Rhode Island we had a series of shows called the Providence Pay-Back. For five dollars we had four opening bands for two-nights...really good opening bands! People would pay five bucks, and then they could see us and all these great opening bands. It was our way of saying Thanks and paying our hometown back for supporting us so much. Just one of our many ways to support our fan base. We try to keep our show prices low and give the fans lots of music, all our way of saying thanks. Like I said, as soon as we get home we're definitely going to do another single, and pretty soon we'll have a new album out. But, hopefully we didn't piss anyone off. We want them to know that even though we're now on Velvel, we didn't add any songs and it's the same album. We even tried to keep the album art as close to the original as possible.

Alex: Why Velvel over all the other labels that were in the hunt?

Jason: We were talking to a bunch of different labels at the time, but the reason Velvel won out was because we do everything our own way and there was nothing else on Velvel like us. We came in and they were like, "OK, here's a band that does things their own way and doesn't give two shits about the radio." College radio, but other than that we don't care. They knew we wanted to build up a grass roots following, and they were cool with that. A lot of times you get on a label and they tell you you're going to do this and that. They listened to us and would ask us, "Would you like to do this?" And we were like, "NO!" Then we'd tell them what we were going to do, and they'd be cool with it. They understand that we want to do things for our fans, that we want to keep everything at a grass roots level and give back to our supporters. Our fan base is the most important thing, the all-ages shows and everything, and they actually care about us. They offered us all sorts of things, like a Jim Beam liquor ad, and we were like, "What, are you FUCKING NUTS?!?" That's not our fan base. We don't want to alienate our fan base, so doing stupid things like that aren't cool. Then the BMG distribution, it gets our music everywhere, that was a big deal.

Alex: Has Velvel had you guys do a video yet?

Jason: We have a video, yes. We actually had it before Velvel was in the picture. It's really good, and if you want a copy of it I'll get you a copy of it. It's really cool. It's got Betty Page in it, and has a bunch of live shots of us.

Alex: My last question was about a new album, but we've already covered that. Have you recorded any songs for it yet?

Jason: No, we haven't. But we're really ready for it! It's going to be so good. We're going to have like three songs with a horn section on it. We're thinking of playing around with different horn sections and stuff. Like, we're thinking of asking the Pietasters to do some horns on it, and we know they'll do it. They're really cool, and friends of ours. We've had so many different horn sections play with us. And I have a feeling that maybe the Bosstones will play with us on the new album.

Alex: Are you playing material that will go on the next album already? And how many songs do you expect to be on the new album?

Jason: Yep! We are tonight. Always. We have a lot of stuff. I was just going over it, and we have like fifteen really strong songs. I want to put like fourteen new songs on the album. Thirteen to fourteen new songs, and then I want to do some covers for some singles. We do a cover of "American Nightmare" by the Misfits, and I want to do "Blood Stains" by Agent Orange. Covers go great for B-Sides on singles.

Alex: Anything I left out that you would like to cover?

Jason: You covered it all. The importance of all-ages, the importance of not selling yourself or your fans out, THANKS!

Alex: No problem. Thanks for the interview.

Jason: No problem.