Action Plus+: dreamy pop turned nightmares
By: Alex Steininger



Former guitarist for such acts as PJ Harvey and Tom Waits, Joe Gore has teamed up with Ursula Blind to create a different twist on a dreamy style of pop. Mixing together "forgotten soundtracks, 'nice' AM pop, '70's Euro-sleaze and spiky crime jazz," Action Plus+ creates an unusual pop sound I can almost guarantee you've never heard before.

Performing extensively in the music industry, as well as writing extensively as a music journalist, Joe Gore has accomplished a lot. Recently he has worked with Lisa Germano, Tipsy, Meat Beat Manifesto, Oranj Symphonette, and Les Claypool. Add to that remix sessions with artists like Bush, Moby, and Live, and you start to get a feeling of how far his musical knowledge extends. But playing with these performers wasn't enough. He wanted to play for himself, creating his own music, not something someone else wrote. So it was only a matter of time before Ursula Blind came along and the foundation would be set for Action Plus+.

Ursula Blind's musical background isn't as experienced as Joe's, but her wit, beautiful vocals, and musical charm are definitely the tools used to build Action Plus+. Handling all the lyrics, and co-composing everything, she brings every creation to life.

Helping to fill out the band is Sally Dana on vocals and percussion, Cynthia Smith on the bass and some guitars, as well as Pat "Atomic" Campbell on the drums.

Sally's experience comes from playing in numerous Seattle and San Francisco combo's, as well as drumming experience in Pansy Division. Cythia's comes from fronting the pop band Smitty, which she is currently active in. And that leaves Pat. His drumming knowledge has been collected from his father, who is a professional drummer and Pat's junior high musical instructor. Also gigging around town with Joe in Oranj Symphonette, Pat helps round out the ground.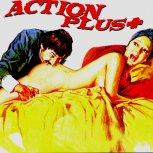 With all this talent, the goal would be composing and releasing. In 1996, Action Plus+ released their self-titled debut on Nocturnal Love Feat, their own label. A spacey, romantic journey through the past, it calls upon a time when love was all fun, exotic, and erotic. "Woo Woo Woo Woo Woo Woo Woo Woo (The Car Alarm Song)" helps show the bands' humorous side, and in doing so captivates your attention. Easily an album stand-out, this one song is all it takes to make this album a memorable one. Unconventional pop, at the very least, this album was definitely a band with a new sound trying to stand out above the masses.
A year later, and hard at work again, they released another full-length. WANDERLUST is just as dreamy and imaginative as ACTION PLUS+, but stronger both musically and mentally. The lyrics are better than their debut, and the music is much more cohesive. They also built on the sticky net of the first, and served up an album twice as addictive.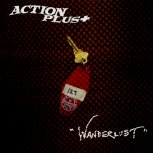 Taking off from where they left off, they brought in guest musicians to enrich the sound with the likes of the trombone, trumpet, cello, and toy piano. With even more to play with, they made the best of what they had and once again showed their ingenuity.
With two composers that are both talented and way out there in creativity, there is no limit to the amount of amusement and amazement these guys can come up with. A hard act to pigeonhole on disc, I can only imagine what they would sound like live. But one thing is for sure. . .they must be a crazy act to see live.